Hi Everyone!
This post is about our recent event, Saturday Sparring Night!
The objective of this event was to give amateur boxers some exposure and a 'REAL FIGHT' experience. There was a total of 10 bouts, each round at 2 minutes for 3 rounds. All 20 boxers did a great job that night & hats off to everyone who came forward to participate. "Courage is like a muscle, it is strengthened by use." 
Some of the boxers were sharing their experience of how different it was compared to the usual sparring they did during training. "I totally loved the experience, it was truly tiring but I enjoyed myself throughout and I'm glad I signed up for this event" – Boxer Zack
"I thought my stamina was good till I put it to test. Will definitely come back stronger for the next event!" – Boxer Xavier
The sparring was conducted similar to competition standards. With a referee on the ring and with medics at the corner of the ring. The crowd was just AMAZING!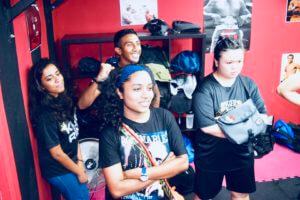 The next event would be on the 30th of June 2018. Boxers interested please do drop us a call or a message to register. The rest of you guys please do take note of the date and keep yourself free to support the participating boxers!
Regards,
Head-Coach Kumar (FIST BUMP!)