Hi Guys!
Singapore National Boxing Championship just took part a couple days back. This was the first time King of Strength Boxing Gym participated in this reputable annual event.
Our own Youth Boxer Raja & Development Boxer Krishna fought and won by Referee Stopping Contest (Used to be known as T.K.O). We would like to dedicate this first blog post to thank all KOS Boxers, Supporters & Well-wishers.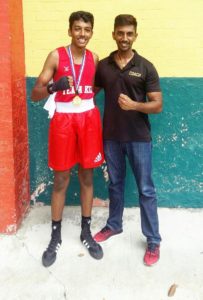 As the Head-Coach of KOS, I would like to congratulate both boxers for the victory & thank them for adding another memory at the place where everything began for me, Farrer Park Boxing Gym.
I first stepped into Farrer Park Boxing Gym about 11 years ago starting my boxing journey. However, Singapore Boxing Federation will be vacating the gym @ Ruthland Road due to residential redevelopment. The 2018 Boxing National Championship was the last event there & I'm glad both our boxers have added another sweet memory along with all my training memories I had with that place.
Once again, A BIGGG HUMBLE THANK YOU TO EVERYONE! Now, looking forward for our next event, stay tuned for more information!
Signing off with a FIST BUMP,
Head-Coach Kumar